My under $10 alphabet framed art.
I've been loving all the alphabet signs here in blogland, you know them, the PB inspired signs.
I decided to take a try at one of them in my style. Hey I love the PB one and others that I have seen but I wanted something a bit different than black and white, typeset looking letters.
I decided to use this garage sale frame that I think I paid $3 for it. It came with a thin backing board and a sheet of plexi glass. I'm not sure you can call it plexi glass, it was so dirty and scratched that I looks almost like a frosted sheet! I kept checking to see if there was still film on one side but no, I couldn't find any protective film on there, it was just that dirty. I'm sure you don't need to see a picture of that.
The frame opening is about 15 1/2" x 19 1/2". I thought it would be perfect, a large statement but I had a place in mind for it and need the larger size. I used my favorite spray paint, Rustoleum Navajo white to cover it.
So I have the frame but needed letters, in my quest for an alphabet set to use it reminded me of these chipboard letters I bought at Big Lots a while ago for a meager $1.50. Yep, $1.50 for a set of 56 Cloud 9 adhesive chipboard letters. I didn't snag them all but did buy a couple set, I bought red and blue. Big lots is by the way, two stores away from JoAnn's which happens to carry these same letters for $7.99!!
So with a frame and letters I needed to figure out the layout of the letters and what size to cut the background paper for each letter. I decided on 4 rows, seven columns. 28 spaces to fill but I'll find something for them.
After measuring the frame insert and attempting many times to figure out a way to divide it equally I give up and decide I need to cut out 4 different size background papers. I didn't want to just cut all the sheets the same size as part of the outside sheets would be covered by the frame and look smaller than the inside sheets.
After lots of thinking and measuring, I ended up with this graph of how I wanted to lay out each paper and the sizes they needed to be.
For my paper, I picked out some 12 x 12 papers from Scrappers Dashery. I used a total of 6 sheets, three designs as the paper was double sided with different colors on each side. The paper has a background of words from Shakespeare's Twelfth Night and Othello and Oscar Wilde's Temptation. I could have used less sheets to to keep my sanity while I cut out each sheet I ended up using about 1/2 to 2/3 of each sheet so lots of scraps left over for another project or to donate.
I knew I didn't want to use these letters in red and silver so, I rip off the red and silver, leaving raw chipboard that is adhesive! Here is what it looks like when you are ripping the red covering off. It is a little rough but I sort of like that. I did take a sanding block to a few pieces that were a bit too fuzzy, for lack of a better word.
So you end up with a pile of the discarded red parts like this. I suppose I could find a use for them but they look so at home in my paper recycling bag.
When I was about half way done with the tearing apart the alphabet letters I wonder why didn't I just use some the the plain chipboard alphabet letters I have.... Oh, I remember, they are not adhesive and I don't want to have to glue down all the letters.
Here is my layout with all sheets cut to size and letters set out. Notice the bottom line, U, V, W, X, Y, & Z - yep, one space use for the &. At this point I was still deciding what to do with the other space I had.
Then I took the chipboard letters outside to spray paint them Rustoleum Navajo white with a shimmery gold spray over them. While I waited for them to dry I taped all my background sheets down. Yep, good old 3M tape for this project. You can sort of see the lines of tape, I was generous with the tape as this frame will not have a glass covering.
I tried to be careful when I cut and attached the papers but with the slight layering I had to do to make the corners match I ended up with some extra space on my backer board. I sure hope this doesn't show when I put it in the frame......
After attaching all the paper I decide to do a bit more distressing with a discontinued TAC ink that I still love and use.
I decided to use some spare cork I had and cut out some parenthesis for around the H and I.
Oh, be careful pulling out the cork, it likes to get stuck in the middle.
After carefully pulling out the cork I decided to use some Aleene's Paper Glaze to attach the cork. I love this stuff, I think I use it more as an adhesive than I do as a glaze.
Use a handy dandy library book to hold down the cork to make sure it adheres good. I love reading Debbie Macomber books, I think I finished this one is 3 days.
At this point I put the art in the frame with the plexi behind the backer board to give it some stability.
Oops, you should skip this part - this is where I notice that I ripped part of the cork board parenthesis when I was flipping over the frame. Agrrrr.....
I try to decide if I should take it off or try to repair it. I know I want to take it off as I won't be happy with a repair. Then listen to my daughter say "It's fine" and that I am too much of a perfectionist.
What, perfectionist, me??? Have you seen our apartment, not perfection by a long shot.
I don't think I'm a perfectionist, I guess I just like my crafts to be clean and straight and no rips or obvious flaws most of the time.
Oh, I'll admit I tried to take off the cork board but I gotta tell you I love my Aleene's Paper Glaze, it is a great adhesive. The cork is not coming off without tearing the background paper. I decide to repair it with the Paper Glaze and I am happy to say it worked great. I didn't use my library book this time, I kept the cork in place with my fingers this time.
I know it is close to the 4th and I could leave this pathetic display up in the kitchen but I'm ready for a change.
Why did I pick this spot and such a large frame for my Alphabet art... this lovely circuit breaker.
I decided to use some gold ribbon to hang the frame up. It ties in great with the gold on the chip board letter. Yes it does tie the letters to the hanger but that that not the whole truth.
The existing nail was too high to hang the frame directly on it and still cover the circuit breaker. So with some ribbon I didn't have to move the nail and create another hole in the wall. :)
I love the cork parenthesis around the H and I. With 28 spaces I needed to be a bit creative
Close up of some of the distressing on the frame. The A really shows the cool shimmery gold color in this picture.
This shows some of the texture on the letters from pulling them apart to take off the red and silver covering.
I'm really liking this now but will need to finish the wall display.
I don't have all the frames done that I want for the area but here is a sneak peak of a 5 x 7 cork board frame that will probably end up with some others by the alphabet art.
I hope to have a finished display soon.
June
Linking to: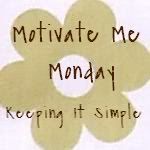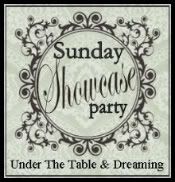 The DIY Showoff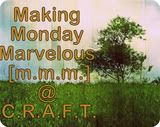 href="http://www.sillylittlesparrow.com" target="_blank">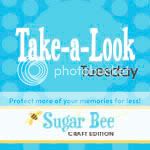 >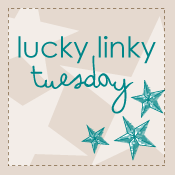 >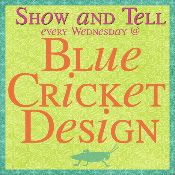 >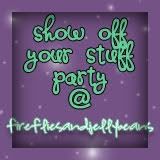 >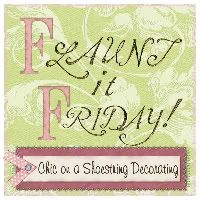 >

>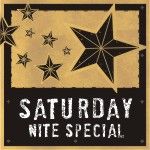 >