Since most people will be spending tomorrow with family and friends I thought I would post a $3 Thursday craft a day early.
I really struggled with what to call this post. Santa's balls – no. Jar of Balls – no. Jar of Ho's – no.
I settled on the Jar of Jolly – not near as mis-leading as the others I thought of. :)
I haven't really started decorating for the holidays. I really can't bring myself to put up Christmas decorations before Thanksgiving.
I think Thanksgiving is too often lost in the shuffle between Halloween and Christmas, especially in the retail environment.
I'm probably partly to blame for this, after all I did lots of Christmas shopping between Halloween and now. At one time I was thinking that I wish there were more Christmas items out, then I quickly reminded myself that it wasn't even Thanksgiving yet.
My original inspiration for this project came from Courtney @ Red heads craft more fun and
this
post. Her alphabet balls were inspired by some she saw at Ballard. Now that I found an inexpensive supply of small balls I decided to take a more seasonal take on this idea. And so my Jolly jar was born.
I started with this –
Dollar store ornaments
Craft paint
Letter stamps
Jar
Some of the hangers from the ornaments had fallen off.
I gently pulled off the rest of the hangers as I wanted the white balls.
Sometimes when you pull off the hanger a bit of the Styrofoam comes off but it isn't too noticeable on the finished balls.
Next lightly coat the stamps with the paint.
I sort of rocked the stamp onto the ball. Be careful to not put too much pressure or you will be a big blob of paint on the ball and won't be able to see the letters.
I stamped each ball twice.
I made half red and half green as I wanted a good mix in the jar.
I don't really have a holiday display yet to show it to its full potential but it doesn't look too bad on my antique scale.
Friday or over the weekend I'm sure I'll updated this display from fall to winter and the Jolly Jar will look a bit more at home.
Linking to some of
these
parties:

>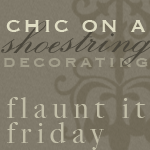 ;
;
>